Cosmetic Dentistry in Martinsville, VA
Cosmetic dentistry services can help correct minor and major cosmetic issues with your teeth and smile. The right procedure can turn an average grin into an impressive smile. Your smile is your gift to the world, and cosmetic dentistry can transform how you look. New materials and technologies have changed the practice of cosmetic dentistry and given you a wide array of cosmetic dental services to choose from. Don't make the decision alone. Instead, seek out the expertise of a skilled cosmetic dentist like Dr. Crabtree at Martinsville Smiles Family Dentistry in Martinsville, VA.
Cosmetic dentistry services you might consider:
Composite bonding, using a tooth-colored liquid resin which is sculpted perfectly to match your tooth, and hardened with a special ultraviolet light; composite bonding can close small gaps between teeth, change the color of your teeth, and cover small chips and cracks.
Contouring and reshaping, which can cosmetically straighten or correct overlapped, cracked, chipped or crooked teeth; contouring and reshaping can be done as a stand-alone procedure, or in combination with composite bonding to achieve the look you want.


Porcelain veneers, which are thin sheaths of porcelain placed on front teeth to improve their appearance; porcelain veneers are used to correct teeth that are:
-Badly shaped, broken or poorly aligned
-Heavily stained or discolored
-Chipped and cracked from age-related wear
-Spaced apart or slightly overlapped


Teeth whitening treatments, which can whiten teeth up to eight shades; you can choose from an in-office procedure which takes an hour, or a convenient take-home kit you can use in the privacy of your home.


Invisalign, which is the state-of-the-art virtually invisible way to straighten your teeth; Invisalign treatment uses comfortable, clear plastic trays, called aligners. There are no more metal wires or brackets. The entire Invisalign process takes about 9 to 15 months.
Cosmetic dentistry can change your smile for the better! With so many options to choose from, don't make the decision alone.
Other services Include:
Dental bonding and reshaping
Teeth whitening
Dental veneers
Dental implants
Dental filling
Inlays/onlays

There are lots of decisions to make, but don't worry — dentists are skilled at helping you getting the desired smile!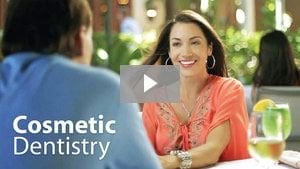 Share your thoughts. Communication is an extremely important part of the smile makeover process. At the first makeover consultation, it helps if you describe what you would like to change in as much detail as possible. Bring along pictures of smiles you like, or of how your own smile used to look. Your makeover dentist will have some thoughts to share with you as well because dentists are trained to look at smiles in terms of facial balance.
Make a plan. An important part of planning a smile makeover is a comprehensive dental exam. Cosmetic Dentistry offers an amazing array of lifelike tooth restorations and treatments; but first, any conditions in your mouth that may jeopardize a good result must be taken care of. If your teeth are discolored, for example, the reason must be determined. You may have an underlying dental disease that needs to be treated before whitening your teeth; otherwise, the whitening may not last. Likewise, if you often drink red wine or other beverages that stain, you might do better with porcelain veneers than bleaching treatments.
Try it out. A smile makeover is an investment that is meant to last. That's why many of the procedures performed are irreversible. So if you are contemplating some changes, it's a great idea to try them out before you fully commit to them. There are many ways to preview the results: computer imaging, 3-D models, and even placing temporary restorations on your teeth so you can see what the final results will look and feel like in your own mouth. This also allows a fine-tuning of the makeover plan.
A "trial smile" is a great way to eliminate unknowns in the makeover process. But when it's all done, there's still one thing you may not be prepared for: how great it feels to flash your new smile to the world!
Learn more about how we can help with our Cosmetic Dentistry treatments
by calling Martinsville Smiles Family Dentistry at our Martinsville, VA office at (276) 632-9266 today!