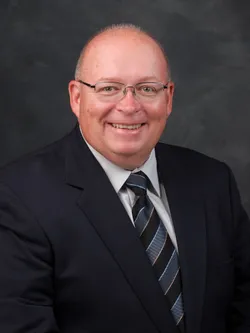 Dentist Martinsville, VA
Dr. Crabtree is a 1985 graduate of Virginia Commonwealth University's Medical College of Virginia School of Dentistry, he also earned a B.A. in biology from Wake Forest University and has achieved Fellowship in the Academy of General Dentistry. Dr. Crabtree is serving on the American Dental Association's Council on Government Affairs (CGA) and has served as Chairman of the American Dental Association's Council on Access, Prevention, and Inter-professional Relations (CAPIR). He recently chaired a Virginia Dental Association Task Force to establish a new position in the Dental Workforce called a Community Dental Health Coordinator. He is a Regent of the International College of Dentists for the United States Section.
In addition to Dr. Crabtree's General Dentistry private practice, he is President and a founder of the Piedmont Virginia Dental Health Foundation, which provides dental care to needy citizens through its Dental Education and Safetynet Center. He is past president of the Patrick Henry Dental Society, the Piedmont Dental Society and the Virginia Dental Association. He previously served as a Delegate for the American Dental Association (ADA) House of Delegates. The Virginia Dental Association awarded Dr. Crabtree with their highest award, the Emanuel Michaels Distinguished Dentist Award for 2015.
Dr. Crabtree recently served Vice-Chairman of the Board of Trustees of the Virginia Museum of Natural History and he has previously served the Commonwealth of Virginia as a member and past president of the Virginia Board of Dentistry and as a former member of the Virginia Board of Health Professions. He is a member of the American Association of Dental Examiners and serves as a Southern Regional Testing Agency Examiner. Dr. Crabtree has been involved in higher education and has served on the Boards of Visitors of Wake Forest University and Longwood University, where he served as Rector as well as being a Commissioner for the Commission on Colleges of the Southern Association of Colleges and Schools (SACS). He has served as a Trustee of the Institute for Advanced Learning and Research and as a Board Member of the Virginia Institute for Performance Engineering and Research (VIPER).
As an involved member of his community, Dr. Crabtree is an active member of First United Methodist Church and a past President of the Martinsville/Henry County Chamber of Commerce, past member of City Council and the former Mayor of Martinsville, Virginia. He has served on numerous local Boards and Commissions including the Governor's Commission on Government Finance Reform for the 21st Century and the Joint Subcommittee of the Virginia General Assembly Studying Availability of Dental Hygienists.
In 2015, The Virginia Dental Association honored Dr. Crabtree with its most prestigious award: the Emmanuel Michaels Distinguished Dentist Award. He has also been awarded Fellowships by the American College of Dentists, the Pierre Fauchard Academy, the Academy of General Dentistry, the International College of Dentists, the Virginia Dental Association as well as being recognized as an Outstanding Young Virginian by the Virginia Jaycees and as the Virginia Exchange Club's 2007 Outstanding Virginian for his role is establishing a low income dental clinic in Martinsville, Virginia. In 2008, he was honored by the Virginia Section of the Pierre Fauchard Academy with their Award of Honor. During the Virginia Commonwealth University 2008 Commencement Ceremony, Dr. Crabtree was honored as the 2008 VCU School of Dentistry Alumni Star.
Married to Rebecca his wife of thirty five years, he is the proud father of 2 daughters and grandfather of two grandchildren.
You can find Dr. Crabtree's personal website at www.markcrabtree.org.