Teeth Whitening in Martinsville, VA
When you use tooth whitening products from a pharmacy or supermarket, there's no guarantee that you'll get the results that you're looking for. Some products could also irritate your gums if they aren't used properly. The better option is to have a professional take care of the job. Learn about the advantages of teeth whitening by a Martinsville, VA dentist who is experienced in cosmetic dentistry, like Dr. Crabtree.

Why People Want Whiter Teeth
Professional tooth whitening is an important cosmetic procedure offered by dentists. It's important because you can have the straightest and most perfectly shaped smile, but it doesn't matter much if your teeth are yellow or discolored. A survey by the American Association of Orthodontists found that close to 90 percent of patients ask their dentists about in-office tooth whitening, which is also called "chairside bleaching."

What to Expect at a Whitening Appointment
The majority of the time you spend at your professional whitening appointment will be spent laying back and relaxing. After protecting your gums, your Martinsville Smiles Family Dentistry dentist will gently apply a bleaching gel to the surface of your teeth and then use a laser curing light tool to activate the gel. After you relax for about an hour, the dentist will remove the gel and reveal your new smile.

Benefits of Teeth Whitening
There are two categories of benefits of having your teeth whitened professionally—immediate and overall. The immediate benefits include brightening up your appearance in one relatively short appointment by up to eight shades. If you try other whitening solutions, like over the counter products, you will have to wait much longer for results. The overall benefits of having your teeth whitened by a dentist include:

- Increased self-confidence.
- Younger appearance (people with whiter teeth are generally perceived as younger).
- Better social experience.
Professional Whitening Methods
Professional whitening makes use of high-concentration bleaching gels that are not available over the counter.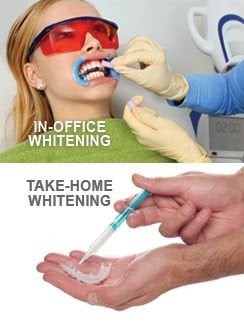 In-Office Whitening
— This technique offers the fastest results with the most powerful whitening solutions available. First, your gums and tooth-root surfaces will be covered with a protective barrier to ensure your safety. A thin plastic device known as a retractor will hold your lips and cheeks away from your teeth as a professional-strength hydrogen peroxide gel is applied. The gel will be left on for about an hour. When it is removed, the results will be obvious immediately.

Take-Home Whitening — This is another effective way to whiten your teeth, though you will play a greater role in ensuring the best possible results and several weeks may be needed to achieve your desired level of whiteness. First, a mold of your teeth will be taken and then two thin, flexible plastic mouth trays will be custom-made for you — one for the top teeth and one for the bottom. You will fill the trays with whitening gel and then position the trays over your teeth. The trays are left in usually for about an hour at a time.

Caring for Your Whitened Smile
There are lots of things you can do to make sure your whitening results last as long as possible, and this will vary from person to person (six months to two years or even longer). First of all, please maintain your usual, conscientious routine of brushing and flossing every day, and keep up with your regular schedule of professional cleanings at the dental office. Avoid foods and beverages that stain, including red wine, tea and coffee. If you smoke, use your newly whitened teeth as an impetus to quit — a good idea in any event! A minor touch-up every so often, either at home or at the dental office, can keep your smile bright and beautiful for years.

Do you want a bright smile?
Call the Martinsville Smiles Family Dentistry at our Martinsville, VA office today at (276) 632-9266 to schedule an appointment!