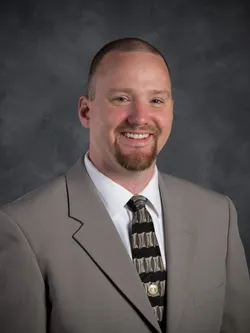 Dentist Martinsville, VA
Dr. Charles Jenkins is a native of Martinsville, VA, graduating from Laurel Park High School in 1993. He attended Virginia Commonwealth University, where he obtained a Bachelor of Science in Biology in 1997. After undergrad, he was privileged to attend Virginia Commonwealth University's Medical College of Virginia School of Dentistry. He graduated with Magna Cum Laude honors in 2001 with a Doctor of Dental Surgery degree. Upon graduation, he returned to Martinsville and began working as an associate dentist with Dr. Mark Crabtree in a general dentistry practice. In 2011, Dr. Jenkins and Dr. Crabtree joined together to form their current practice: Martinsville Smiles, PLLC.
In addition to working as a general dentist, Dr. Jenkins is involved with organized dentistry. He is a member of the American Dental Association (ADA), Virginia Dental Association (VDA), and Piedmont Dental Society (PDS). Since 2002, he has served as a delegate for Component V in the VDA House of Delegates. He is the Secretary/Treasurer for the PDS, where he has held this position since 2004. For his service to dentistry, Dr. Jenkins was recognized as a Fellow of the Virginia Dental Association and as a Fellow of the International College of Dentists and the American College of Dentists.
Dr. Jenkins is dedicated to serving his community. He has been an Adjunct Clinical Instructor at the Piedmont Virginia Dental Health Foundation Community Clinic since its inception in 2006, where dental care is provided to needy citizens of the region. He has been a Supervisory Dentist for the Dental Hygiene Program at Danville Community College and has participated in multiple Mission of Mercy (MOM) Projects, which aid patients in underserved areas throughout the state of VA. He has served on the Advisory Board for National College of VA since 2003 and on the Campaign Team for the United Way of Martinsville and Henry County since 2010.
As an active member of Granbery United Methodist Church, he has been a Sunday School Teacher and held numerous positions on church committees, including Executive Church Council, Trustees, Pastor/Parish Relation Committee, and Finance Committee. He is also an active member of the United Methodist Men's Group, where he serves as Vice President/Secretary. He enjoys coaching soccer for the Piedmont Youth Soccer League (PYSL) and basketball for Parks and Rec and the Upward Program. He is married to Erin Jenkins and has two sons, Caleb and Nicholas.
Dr. Jenkins strives to provide the highest quality of care for his patients, young and old. He has kept up with current techniques and procedures through hundreds of hours of continuing education courses and lectures, ensuring his patients receive the most comprehensive and advanced dental care. He is very interested in Oral Surgery procedures and providing the best esthetic dentistry through multiple types of cosmetic restorations.